I am a political theorist and an associate professor in the Department of Political Science at Ohio State University.

My research has been or is currently supported by the Humboldt Stiftung, the Global Arts & Humanities Society of Fellows, the Princeton University Center for Human Values, and the Max Weber Programme.
My research is on critical race and feminist theory, migration, transnationalism, empire, and racial capitalism.
I'm currently completing a manuscript proposes an imperial genealogy of popular sovereignty, self-determination and immigration control. Building upon the work of W. E. B. Du Bois, Frantz Fanon, and Saidiya Hartman, I argue that "democratic" Western regimes are organized as collective self-governing units that agree on exploiting racialized internal and external others to support their social reproduction and well-being. I support this argument by bringing together texts, archives, and the activism of the white working-class at particular historical junctures to reconstruct regimes of global labor mobility and domestic regimes of labor control. I draw implications for contemporary political theory scholarship on popular sovereignty, self-determination, and immigration regulation.

An ongoing project on the political theory of immigration explores how the use of big data by immigration enforcement brings about a new, mechanized notions of political authority that are less open to contentious politics and prone to circumvent constitutional protections. Past work on the political theory of migration looked at the construction of punishing lived experiences through enforcement regimes of surveillance, detention and deportation; the role of secularism in obscuring critical practices of contestation of domination; and the role of violence in underpinning and constituting law.

My 2019 book Transnational Cosmopolitanism: Kant Du Bois, and Justice as a Political Craft makes the case that cosmopolitanism must be transnational. This is because global injustice creates distinct local spaces of oppression that we can only make sense of by exploring their commonalities and origins in common global structures of domination. For this reason, contestation of injustice is ill-served by traditional domestic and international realms of politics, and must instead inaugurate novel (transnational) spaces that straddle these realms. This can be achieved through relations of solidarity that ground transnational public spheres of common temporality and collective will formation that depart from Eurocentric domestic and international fora. The book won the Sussex International Theory Prize, grantedby the Center for Advanced International Theory at the University of Sussex.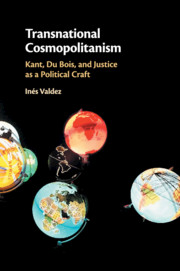 At Ohio State I hold courtesy appointments from Comparative Studies; Germanic Languages & Literature; History (Power and the State Constellation); Spanish and Portuguese; and Women's Gender, and Sexuality Studies. I am affiliated with the Translational Data Analytics Institute and programs on International Studies, Latin American Studies, Middle Eastern Studies, and Latina/o Studies, which I directed between 2019 and 2021.

Contact:
Department of Political Science
154 N Oval Mall
2140 Derby Hall
Columbus, OH 43212
Ph: [+1] 614 247-8729
Fax: [+1] 614 292-1146
@: inesvaldez[at]protonmail[dot]com